1. On the GNU General Public License page, click Next.
2. On the Select Destination Location page, choose a path (or use the default) and click Next.
3. On the Select Components screen, make sure that both Git Bash Here and Git GUI Here are selected. Then click Next.
4. It will ask where to set up Git in the Start Menu. You can just click Next.
5. On the Choosing the default editor used by Git page, if you have Notepad++ installed, select that one from the dropdown. Otherwise, just choose "Use Notepad as Git's default editor". Then hit Next.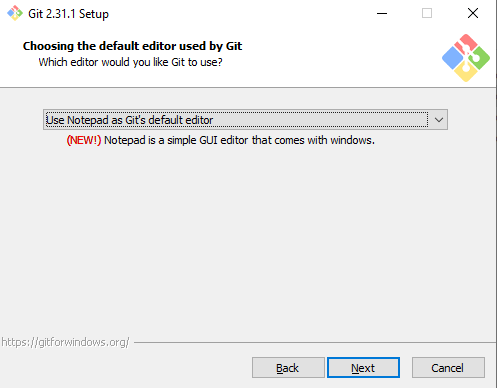 6. On the Adjusting the name of the initial branch in new repositories screen. Just click Next here.
7. On the Adjusting your PATH environment page, keep the default option Git from the command line and also from 3rd-party software and then click Next.
You can use the defaults for the rest of the options.